I don't know where my brain has been lately, but evidently everywhere except in my head.
Moving cross country
/training for an Ironman/working full time+ will do that to you, I suppose. The long and short of it is I kind of put it out of my mind I'm running a marathon in less than two weeks.
Gulp.
Post-run brews
Smiling on the outside ...
The panic settled in last night when I started to think about heading to Vermont by myself to run my second marathon in two months. If you missed it, my last marathon didn't go as planned.
I PRed at Circular Logic
, but I fell short of my sub-four hour goal. Since then, almost every run has been a joy. I had a crappy 13 miler, but otherwise, it's been all smooth sailing. Even
my solo 20-mile run
in Seattle was bordering on delightful (the excellent Pacific Northwest beer I consumed at the
Pine Box
afterwards might be part of that).
However, I feel kind of unprepared. For Circular Logic, I ran tempos and intervals and repeats and fartleks. In the past two months, I've logged about the same miles, but focusing more on trying to enjoy the time than squeezing it for everything it's worth. I've also adding more swimming and cycling so I'm not in a total lurch when I start Ironman training in earnest. I've been doing double workouts for a while, and noticed my weight is down quite a bit from Circular Logic.
One of our double days
Napoleon loves Alyssa and
our training sessions
What I'm worried about for this race is the unknown. I'll be on my own, save for my
Cabot Fit Team
members who I can't wait to meet. With the travel, sleeping in a new place and eating new food (um, cheese FTW), I'm not sure how my body will react. Also, I'll be wearing untested apparel in the form of my super sweet Cabot race kit.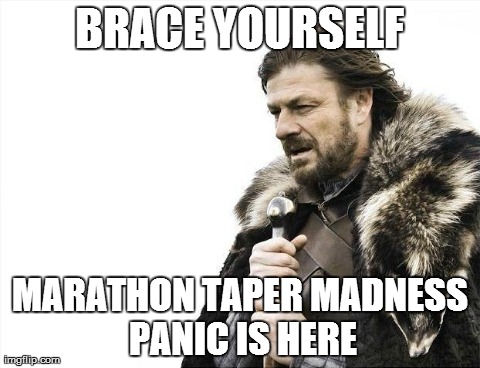 Finally, there's a 4-hour pace team at a 3:45 pace team. I'm debating what's the best method here: Hang with the 4-hour group for the first 20 and take off if I'm feeling it for the last 10k, or start with the 3:45 crowd and hang on for as long as I can. Choices are hard.